InvestorPlace – Stock Market News, Stock Advice & Trading Tips
Sundial Growers (NASDAQ:SNDL) has more time to avoid delisting. Now the company must convince investors that there is enough that's different to merit an investment in SNDL stock. One thing is certain. It won't be getting help from federal Marijuana legalization in the United States anytime soon.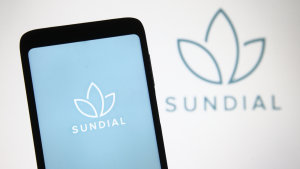 Source: Shutterstock
SNDL stock charged ahead by 18% on the news that it has 180 additional days to get in compliance with Nasdaq's minimum bid price requirement. The company will gain compliance if it can get the price of its common shares to close at or above $1 per share for at least 10 consecutive trading days before August 8, 2022.  
I suppose if you bought shares of Sundial at the peak of its meme-stock infused rally in 2021, you're genuinely relieved. However, I'm always cautious to hear news like this. It's kind of like rewarding a student for getting an extension on their homework. The ultimate grade is still an open question, but they now have more time to get there. 
Fool Me Twice…
You know how the rest of that goes. And that's why I would be concerned about SNDL stock. The company already had 180 days to comply and was not successful in bringing its share price up. Plus, the company received a prior delisting notice in December 2020. So, depending on how you look at it, this is the second or third time the company is facing the threat of delisting.
But will it happen? If I had to guess, I'd say probably not. As Brian Paradza wrote last month, Sundial has about 2 billion shares outstanding so a share consolidation (i.e. reverse stock split) seems likely. While onerous to existing shareholders, it's probably the only realistic option the company has.  
SNDL Stock Is Not Without Hope
Or is it? My InvestorPlace colleagues have written extensively about two of the paths that Sundial is pursuing in its growth strategy. The first is a growth-through-acquisition path. The company has purchased the private liquor retailer Alcanna (OTCMKTS:LQSIF). The deal was recently approved by Alcanna shareholders and both sides are hoping it can finalize in the first quarter. 
And the company is also playing an interesting role in providing financing for other cannabis companies. As Louis Navallier wrote, Sundial has already made around $400 million from these investments and these investments will continue to provide interest income.  
Another benefit that Navallier promoted was how the acquisitions gave Sundial exposure to the U.S. market. That may be important someday, but that day is not today. 
Don't Wait for the U.S. Market
The impasse over legalizing marijuana in the United States illustrates that our system of government may be more broken than I thought. And I'm fairly cynical so that's saying something. To advance such legislation would seemingly have had some bi-partisan support. And it would have been a quick win that would have ingratiated President Joe Biden's administration to some of its harshest detractors. 
But that didn't happen. And with mid-term elections looming, I don't imagine that the challenger party will be looking to make any concessions. So, if part of your investment thesis for Sundial is that it will benefit from the U.S. market being open nationwide, you should think again. 
Have Things Changed or Is It More of the Same?
I appreciate the desire investors have to take a flier on a penny stock like Sundial Growers. Simply put, a little goes a long way. And with the stock trading for around 62 cents a share as I write this, you're not paying a risk premium for the shares. 
If trading penny stocks is part of your investment strategy, don't get crazy with SNDL stock. A little can go a long way, so be sure to set a firm stop-loss order and live to fight another day. 
On the date of publication, Chris Markoch did not have (either directly or indirectly) any positions in the securities mentioned in this article. The opinions expressed in this article are those of the writer, subject to the InvestorPlace.com Publishing Guidelines.  
Chris Markoch is a freelance financial copywriter who has been covering the market for over five years. He has been writing for InvestorPlace since 2019. 
More From InvestorPlace
The post Sundial Growers Must Show Investors Things Are Better, Not Just Different appeared first on InvestorPlace.