Jazz Pharmaceuticals JAZZ reported adjusted earnings of $4.30 per share in the second quarter of 2022, beating the Zacks Consensus Estimate of $4.20. Earnings were up 10.3% year over year.
Total revenues in the reported quarter rose 24.1% year over year to $932.9 million. Total revenues beat the Zacks Consensus Estimate of $908.2 million. The year-over-year upside was driven by sales of new drugs and drugs added from the acquisition of GW Pharmaceuticals.
Net product sales increased 24.0% from the year-ago quarter's levels to $928.3 million. Royalties and contract revenues were up 31.9% to $4.6 million in the quarter.
Shares of Jazz were up 1.2% in after-market trading on Aug 3 following the better-than-expected earnings announcement. In the year so far, Jazz's shares have increased 19.0% against the industry's decline of 20.4%.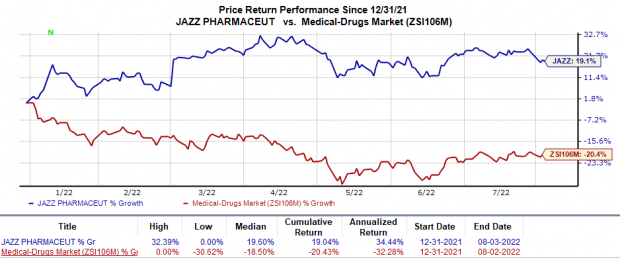 Image Source: Zacks Investment Research
Neuroscience Products
Sales of Jazz's neuroscience products increased 19.8% to $696.8 million.
Net product sales for the combined oxybate business (Xyrem + Xywav) increased 10.1% to $504.4 million in the quarter. During the quarter, Jazz achieved a significant milestone as more active oxybate patients were taking Xywav over Xyrem.
Sales of sleep disorder drug Xyrem declined 19.4% year over year to $269.4 million due to patients switching to Xywav. Jazz expects an authorized generic version of Xyrem to be launched by Hikima Pharmaceuticals in late 2022 or January 2023, which should further hurt sales.
Xywav, a low-sodium formulation of Xyrem, recorded sales of $235.0 million in the quarter, up 89.3% year over year and 26.3% sequentially. This rise was attributable to the encouraging uptake of the drug following FDA approval for label expansion in idiopathic hypersomnia (IH) indication last August.
For the second quarter, Jazz recorded $13.0 million as Sunosi sales which rose 6.9% year over year. Earlier this March, Jazz inked an agreement to sell its U.S. rights for Sunosi to Axsome Therapeutics AXSM. In consideration of the rights, Axsome will make an upfront payment of $53 million to Jazz upon closing the deal. In addition, Axsome will also pay Jazz royalties on U.S. net sales of Sunosi. This divestment of rights to Axsome was completed on May 9. 2022.
Sales of epilepsy drug Epidiolex/Epidyolex rose 12% (on a proforma basis) to $175.3 million. The drug was added to Jazz's pipeline with the GW Pharmaceuticals' acquisition in 2021. Jazz is making significant progress related to the launch of Epidyolex in Europe and other ex-U.S. markets.
The company plans to initiate a late-stage study on Epidiolex later this year to support its label expansion to include epilepsy patients with myoclonic-atonic seizures. Jazz expects that Epidiolex has the potential to be a blockbuster drug in epilepsy indication.
Another drug added with the GW Pharma acquisition was Sativex, a cannabis-based mouth spray for multiple sclerosis-related spasticities, approved in Europe but not in the United States. The drug recorded sales of $4.1 million in the quarter, up 111.2% year over year.
Oncology Products
Oncology product sales increased 40.3% to $229.8 million.
New drug Rylaze recorded sales of $73.0 million in the quarter, up 34.6% sequentially. Jazz stated that demand remained strong during the first quarter. Currently, Rylaze is only approved in the United States for treating acute lymphoblastic leukemia (ALL) patients. A regulatory application seeking approval for this ALL drug was filed in Europe in May 2022.
Zepzelca, approved for small cell lung cancer, recorded sales worth $68.3 million in the quarter, up 22.1% year over year.
Acute myeloid leukemia drug, Vyxeos generated sales of $33.9 million, up 7.7% from the year-ago period.
Defitelio sales were up 13.7% year over year at $54.7 million in the quarter.
Cost Discussion
Adjusted selling, general and administrative (SG&A) expenses rose 4.5% to $281.5 million to support higher headcount costs. Adjusted research and development (R&D) expenses rose 4.4% to $123.7 million mainly to support the company's ongoing clinical activities.
2022 Guidance
The company affirmed its guidance for revenues and adjusted earnings in 2022. The company expects adjusted earnings to be in the range of $16.70-$17.70 per share.
Total revenues are expected to be in the range of $3.5-$3.7 billion.
Neuroscience sales are expected in the range of $2.6 billion-$2.8 billion, while sales for the Oncology franchise are expected in the range of $840 million-$920 million.
Adjusted SG&A expenses are anticipated to be between $1.08 billion and $1.13 billion, while Adjusted R&D expenses are expected to be in the band of $560 million to $600 million.
Zacks Rank & Other Stock to Consider
Jazz currently has a Zacks Rank #1 (Strong Buy).
Some other top-ranked stocks in the overall healthcare sector include Eli Lilly LLY and Novavax NVAX, each carrying a Zacks Rank #2 (Buy). You can see the complete list of today's Zacks #1 Rank stocks here.
Eli Lilly's stock has risen 13.6% this year so far. Eli Lilly's earnings estimates for 2022 have gone up from $8.29 per share to $8.34 per share, while the consensus mark for 2023 has increased from $9.47 per share to $9.55 per share in the past 30 days.
Eli Lilly missed earnings estimates in three of the last four quarters while beating the mark on one occasion. Eli Lilly has a four-quarter earnings surprise of 2.26%, on average. In the last reported quarter, LLY reported an earnings surprise of 12.93%.
Novavax's stock has plunged 57.3% this year so far. Novavax's earnings estimates for 2023 have increased from $10.43 per share to $10.62 per share over the past 30 days.
Novavax missed earnings estimates in each of the last four quarters, delivering a negative earnings surprise of 184.49%, on average. In the last reported quarter, NVAX delivered a negative earnings surprise of 23.12%.
5 Stocks Set to Double
Each was handpicked by a Zacks expert as the #1 favorite stock to gain +100% or more in 2021. Previous recommendations have soared +143.0%, +175.9%, +498.3% and +673.0%.
Most of the stocks in this report are flying under Wall Street radar, which provides a great opportunity to get in on the ground floor.
Today, See These 5 Potential Home Runs >>
Want the latest recommendations from Zacks Investment Research? Today, you can download 7 Best Stocks for the Next 30 Days. Click to get this free report
Eli Lilly and Company (LLY): Free Stock Analysis Report
Jazz Pharmaceuticals PLC (JAZZ): Free Stock Analysis Report
Novavax, Inc. (NVAX): Free Stock Analysis Report
Axsome Therapeutics, Inc. (AXSM): Free Stock Analysis Report
To read this article on Zacks.com click here.