Cannabis Industry Updates And Current Events
When it comes to marijuana stocks the growth and progress of the industry can dictate a lot. If certain events or business that occurs can have either a positive or negative impact on how cannabis stocks trade. Let's say a handful of top cannabis companies release negative news it can lead to not only a decline in the company but the sector as a whole. Now there are always specs of optimism in a falling market and that is being able to find top marijuana stocks to buy. Yet out of the market, there is still much to be done that will help keep the cannabis industry moving on the right path.
Currently, there is a lot happening on the legislative side of things both state and federal. As well as companies partnering and making big business happen that could be a catalyst to see a better overall performance in the sector. Nevertheless, the cannabis industry is still developing not just in the US but globally. So if you are looking to become involved in the legal market staying up on current events and trends is very important. The more you know about what's going on and the companies seeing the best success can be a big help in the long run.
Possible New Legal Cannabis States
As of July 2022, 38 states have legalized cannabis in some form This info is according to the National Organization for the Reform of Marijuana Laws. In 2022 there has only been one state to legalize cannabis so far. Rhode Island has passed laws to enact recreational cannabis.
Arkansas
Delaware
Idaho
Kansas
Kentucky
Maryland
Mississippi
Missouri
Nebraska
North Carolina
North Dakota
Ohio
Oklahoma
South Carolina
South Dakota
Wyoming
Federal Reform
When it comes to federal cannabis reform it has been an ongoing battle. On a state level legislation has come a long way with more the half of the US have legalized cannabis in some form. Over the last few years, advocates and legislators in favor of legal cannabis have been hard at work. There have been several key federal reform packages that have passed the house. Yet these same bills have been stalled or failed to pass in the Senate.
The MORE Act: Originally passed by the House in 2020 this bill aimed to
deschedule cannabis from the Controlled Substances Act. As well this bill would have enacted various criminal and social justice reforms related to cannabis. Which includes the expungement of prior convictions.
The SAFE Act: SAFE Banking Act of 2019, is proposed legislation regarding the disposition of funds gained through the cannabis industry in the United States. This bill has been revived a few times since 2019 but has still failed to become law. Many feel that cannabis banking could be the first federal bill to pass in the near future.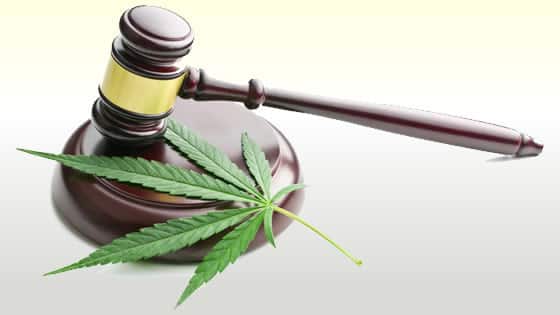 The CLIMB Act: This bill would primarily allow the cannabis industry to access a multitude of "business assistance" opportunities from banking institutions. The term encompasses a wide range of activities: Not just credit card services. But money transfers, accounting services, and lending, to name a few.
[Read More] Top Cannabis Stocks To Watch Right Now In August
"The CLIMB Act is critical because it provides state legal American businesses with traditional funding and support mechanisms for this emerging industry, which other domestic industries currently enjoy," said Saphira Galoob, Executive Director of the National Cannabis Roundtable,
Outlook On The Cannabis Industry And Marijuana Stocks
The cannabis industry is moving at a fast pace. Many see this progress and are becoming less fearful of a subject that was once taboo subject. With new markets comes more opportunity. For example when a new state goes legal new dispensaries offer a chance to get a job in the legal cannabis industry.
[Read More] Top Canadian Marijuana Stocks To Buy Today?
Whether it's working as a budtender or a cultivator or even in packaging and labeling. Also, the amount of revenue made and spent on state taxes can be a big asset to the region. Overall this success is one that can't be denied which is why lawmakers in favor of better reform are working to end prohibition.