Top Cannabis Stocks And The Current. Market
Are you searching for top marijuana stocks that are gaining traction in August? The market as a whole began to see significant gains this week as some of the largest US companies released their second-quarter earnings results. The federal cannabis policy debate in Congress is also slated to begin in August. Since the beginning of July, the market value of cannabis stock prices has considerably increased after reaching new lows.
Many cannabis investors are now trading marijuana stocks using short-term trades in order to benefit from the current volatility. Current trading prices for many of the leading cannabis companies are comparable to those of penny stocks. If you're not familiar, penny stocks are any stocks with a price of less than $5. They are known for their high volatility in particular and may experience significant daily price fluctuations.
May saw the release of the first-quarter earnings from several of the largest marijuana companies, showing a substantial growth in year-to-date sales. Nevertheless, a number of these businesses have lowered their prediction for 2022, attributing the lower expectations to rising costs and the potential for a recession. Let's look at the two top cannabis stocks that stockholders should watch in August 2022.
[Read More] 2 Marijuana Stocks That Could See A Recovery This Month
Top Penny Marijuana Stocks This Week In August
Charlotte's Web Holdings, Inc. (OTC: CWBHF)
MariMed Inc. (OTC: MRMD)
Charlotte's Web Holdings, Inc.
Charlotte's Web Holdings, Inc. is a market pioneer in the US for CBD health products made from hemp. The company has mostly expanded while holding the top rank in the US CBD industry for years. Charlotte's Web in particular provides high-end hemp products using genetics grown on American farms. The company, in particular, turns this into hemp extracts and is the owner of the leading CBD brand in the US. More than 22,000 retail locations nationwide sell Charlotte's Web items.

The company said in May that revenue fell in the first quarter of 2022, mostly as a result of lower eCommerce traffic. An overall 17.3% decrease from Q1 2021's $23.4 million to Q1 2019's $19.4 million in consolidated net revenue. In addition, income from eCommerce sales made directly to customers dropped by $3 million, or 18.5 percent, to $13.1 million. Instead of $13.6 million and 58.3 percent in the first quarter of 2021, the gross profit was $11.7 million this time around or 60.5 percent of the total sales. The operating loss for the first quarter of 2022 was $1.5 million, or 14.8 percent, less than the operating loss for the first quarter of 2021, which was $10.1 million.
CWBHF stock is trading at $0.67 on August 3rd, up 42.01% in the past month. The stock has a 52-week price range of $0.38-$3.52 and is down 34.31% year to date. According to analysts at Tip Ranks CWBHF stock has a 12-month average price target of $1.10 per share. In this case, this would represent an increase of 64.18% from its current trading price.
[Read More] Top Marijuana Penny Stocks To Watch In August? 3 Canadian Pot Stocks For Your List
MariMed Inc.
MariMed Inc. has developed into a multistate marijuana company with a line of legally functioning dispensaries and retail outlets. The company builds and operates state-licensed cannabis facilities from seed to sale. The management team of MariMed has a track record of success in its managed business divisions. Some of the company's best-selling and award-winning goods and brands include Betty's Eddies®, Nature's HeritageTM, Bourne Baking Co., and Kalm Fusion®. MariMed created the largest cannabis-infused brownie in the world last year to mark the debut of its Buddy Baked brand. The company received recognition in May for making the largest cannabis brownie ever. In March, the business acquired a dispensary in Beverly, providing it a second retail location in Massachusetts.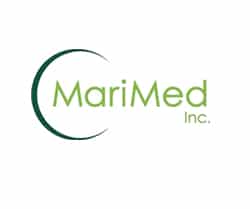 Sales rose by 27% year over year in the first quarter of 2022, the business's numbers released on May 10 showed. Retail dispensary operations showed a 41 percent increase in revenue in the first quarter of 2021 as a result of the establishment of a new dispensary in Metropolis, Illinois, as well as growing consumer populations in Massachusetts and Illinois. Additionally, compared to Q1 2021, wholesale operations' revenue increased by 6%. Additionally, on August 8 after the bell, the company will report its results for the second quarter of 2022.
MRMD stock is trading at $0.7247 on August 17th up 50.98% in the last month. The stock has a 52-week price range of $0.40-$1.14 and is down 16.22% year to date. According to analysts at CNN Business, the stock has a $1.50 average price target this would represent an upside of 106.98% from its last trading price of $0.7247.
[Read More] 2 Marijuana Stocks That Could Add More Value To Your Portfolio
Finding The Best Cannabis Penny Stocks To Trade In 2022
Finding the industries with the best prospects may be greatly improved by looking at a company's financials and press releases. It's essential to conduct a comprehensive investigation of a company before choosing a position. If you become more efficient at using technical indicators and chart patterns, you could be able to boost your investment returns. Due to the cannabis industry's rapid domestic and global expansion, short-term traders may benefit from the current market circumstances. During a downturn, you might find it helpful to familiarize yourself with a range of trading strategies. In August 2022, these may be some of the best marijuana stocks to add to your watchlist.