Top Ancillary Cannabis Stocks For Your Watchlist In May
This week, the market's leading marijuana stocks began the week by plunging further. Ancillary cannabis stocks have been particularly severely affected by the 2022 slump. In general, auxiliary cannabis companies help the cannabis sector without working with the plant. Indeed, these businesses vary from cannabis REITs to those that sell cannabis-growing equipment and lighting.
After outperforming vertically integrated cannabis stocks in 2021, they have recently seen severe market drops. These drops are now being attributed to federal cannabis legislation delays, which have resulted in defeats in Congress thus far this year. The MORE Act failed to pass the Senate last year, and the same thing might happen this year.
Chuck Schumer has also postponed his presentation of the CAOA until August. This has continued to have a negative impact on cannabis stocks in the market. Despite the federal government's inaction on cannabis reform, the state-level cannabis business has continued to flourish rapidly.
US Federal Marijuana Legalization And Its Effects On Ancillary Pot Stocks
Overall, these delays have the least impact on auxiliary marijuana stocks. Although they did not do well in 2022, recent losses might be a chance for new cannabis investors. The cannabis sector is predicted to more than double in the next five years, regardless of the present condition of federal cannabis prohibition. This might make the cannabis sector one of the world's fastest-growing industries.
It's critical to conduct your own due research on a company before investing in cannabis stocks. You may invest in the best-performing companies in the market by researching their press releases and finances. To allow you to find the finest possibilities in the market, you should also learn to interpret chart patterns and technical indicators. As the cannabis industry continues to trade at lower levels, consider adding 2 top ancillary cannabis stocks to your portfolio watchlist this week.
[Read More] Will These Marijuana Stocks See Better Trading This Month?
Best Ancillary Cannabis Stocks For May 2022
The Scotts Miracle-Gro Company (NYSE: SMG)
Hydrofarm Holdings Group, Inc. (NASDAQ: HYFM)
The Scotts Miracle-Gro Company
Scotts Miracle-Gro, one of the world's largest marketers of branded consumer lawn and gardening items, has entered the cannabis sector. Hawthorne Gardening is a well-known distributor of cannabis fertilizers, lighting, and hydroponic equipment, and is a totally owned part of the corporation. On January 6th, Scotts added Luxx Lighting and True Liberty Bags to the Hawthorne portfolio. Hawthorne's industry-leading lighting portfolio will be strengthened because of the purchase. Even though Hawthorne's sales have dropped, the business has kept its full-year projection.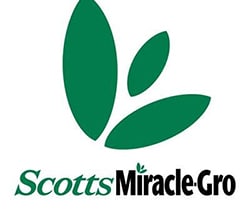 On May 3rd Scotts announced record 2nd quarter 2022 US consumer sales with lawn and gardening demand gaining ground. In general, for the quarter ended April 2, 2022, GAAP earnings from continuing operations were $4.94 per diluted share compared with $5.44 per diluted share in the prior year. Non-GAAP adjusted earnings, which exclude impairment, restructuring, and other non-recurring items, and are the basis of the company's financial guidance, were $5.03 per diluted share compared with $5.64 a year ago.
SMG Stock Performance
SMG stock closed at $98.18 on May 10th down 15.19% in the last month. Currently, the stock has a 52-week price range of $96.46-$240.74 and is down 39.02% year to date. According to analysts at CNN Business SMG stock has a 12-month price target of $138.18 per share. This forecast represents an increase of 40.69% from its last trading price of $98.18.
[Read More] Will These 3 Marijuana Stocks To Watch Soon Recover?
Hydrofarm Holdings Group, Inc.
Hydrofarm Holdings Group, Inc. is a well-known distributor and provider of hydroponics and controlled-environment agriculture supplies and equipment. The company sells a wide range of cannabis-growing equipment in general. High-intensity grow lights, temperature control systems, and growth materials are just a few of the company's goods. Aside from a diverse assortment of one-of-a-kind and tastefully branded items. On November 1st, the business announced the conclusion of its acquisition of Innovative Growers Equipment, Inc. The company and AXEON Water Technologies announced a partnership in January to provide revolutionary reverse osmosis water purification technologies and solutions.

Hydrofarm announced its first-quarter 2022 results on May 10th with Q1 net sales remaining flat at $111.4 million. In addition, gross profit decreased to $16.6 million compared to $23.2 million year over year. The company sustained a net loss of $23 million or a negative $0.52 per share. Also important in its full-year 2022 outlook Hydrofarm is giving guidance of $480-$520 million and adjusted EBITDA of $46-$54 million or approximately 10% of net sales.
HYFM Stock Performance
HYFM Stock closed on May 10th at $7.63 down 11.69% in the past five trading days. The stock has a 52-week price range of $7.48-$63.49 and is down 73.03 year to date. According to analysts at Tip Ranks HYFM stock has a 12-month average price target of $19.33 per share. In this case, this would be an increase of 153.34% from its last trading level of $7.63.
[Read More] Best Marijuana Stocks To Buy In May 2022? 5 Top US MSOs For Your List Now