Here's Some Marijuana Stocks For This Weeks Watchlist
Starting off the last week of March marijuana stocks are still showing up and down action. More specifically some cannabis stocks are showing a bit of a decrease in momentum. Yet it's only the start of the new week and anything can change. One of the pros and cons of looking for marijuana stocks to buy is how volatile the sector is. Just because a particular marijuana stock is down does not mean it can't soon recover. As well if a company is up in the market that it can not see some pullback. Which is actually quite common in the cannabis sector.
2022 is set up to be an interesting year for the overall cannabis industry. Some feel this year can be big for multi-state operators and pure plays. The reason for this is the potential passing of new legal states. In addition, states that have already legalized cannabis have companies like Trulieve and other MSOs opening new dispensaries. This same process will take place in other legal states in the near future.
What this will do is not only expand operations and profitability but give a reason for people to trade these types of marijuana stocks. Which would help increase momentum and cause a possible rise in trading. At present, there is a split between optimism and cation with finding good marijuana stocks to invest in. Even with all that is expected to take place this year. The reason for this is investors are worried if federal reform fails to pass this year we may see another downtrend.
Marijuana Stock Investors Watch For Better Trading
Now, this is all speculation and anything can happen however most investors are not trading off of fundamentals. What this means is investors are not focusing on the individual success of a given company as they once did. Still, if you are looking to buy marijuana stocks make sure you do your research beforehand. In a sector with volatile trading, it presents a bit more risk which traders will look to minimize. Moving forward there is much to be seen inside and out of the market. The companies below are several options to consider when looking for the best marijuana stocks to buy in 2022.
Top Marijuana Stocks To Watch Right Now In 2022
Innovative Industrial Properties, Inc. (NYSE:IIPR)
Power REIT (NYSE:PW)
Innovative Industrial Properties, Inc.
Innovative Industrial Properties, Inc. is a self-advised Maryland corporation. The company is focused on the acquisition, ownership, and management of specialized properties leased to experienced, state-licensed operators. Which are for their regulated medical-use cannabis facilities. Innovative Industrial Properties, Inc. has elected to be taxed as a real estate investment trust, commencing with the year ended December 31, 2017.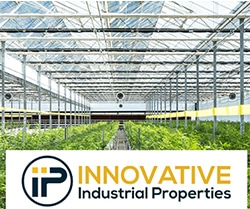 Back on February 23rd, the company released its fourth-quarter and full-year 2021 results. Highlights for Q4 consist of reaching total revenue of approximately $58.9 million. This represents a 59% increase from the prior year's quarter. From October 1, 2021, to now the company, made 31 acquisitions. This also includes 30 new properties and the acquisition of certain facilities at an existing property. Specifically for properties located in California, Colorado, and Massachusetts.
[Read More] Top Marijuana Stocks To Check Out Over The Weekend
As well as Michigan, New Jersey, North Dakota, and Pennsylvania. Plus IIPR also executed two lease amendments to provide additional improvements at properties located in Massachusetts and Michigan. Another key mention is during the 2021 full year the company generated total revenues of approximately $204.6 million. Net income is attributable to common stockholders of approximately $112.6 million and adjusted funds from operations ("AFFO") of approximately $175.0 million. Which represents increases of 75%, 75%, and 78% over 2020, respectively.
Power REIT
Power REIT is a real estate investment trust (REIT) that owns real estate related to infrastructure assets. This includes properties for Controlled Environment Agriculture, Renewable Energy, and Transportation. Power REIT is actively seeking to expand its real estate portfolio related to Controlled Environment Agriculture. In recent news, the company announced it has agreed to fund efficiency improvements. Which would be for its greenhouse in York County, Maine.

The approximately 48,000 square-foot facility sits on six acres. It's also leased to a leading vertically integrated cannabis company in Maine. Pursuant to the Amendment, Power REIT will fund the installation of a highly energy-efficient onsite power generation and cooling system.
[Read More] Cannabis Industry Trends To Watch For In 2022
Power REIT's total capital commitment related to these improvements is approximately $3,500,000. This increases the straight-line annual rent by approximately $654,000 which represents an approximately 19% unleveraged core FFO yield.